Introducing our custom Android + iOS food delivery app template made with the latest flutter version, designed to bring a seamless and delightful dining experience to your fingertips. Discover a world of flavors, convenience, and satisfaction as you explore a host of user-friendly features, Intuitive interfaces make it effortless to select dishes, customize orders, and complete payments
Features
Latest Flutter Version
Android + iOS
Full App Template
Optimised & Clean Code
30+ Layouts
User Registration
Browse Restaurants
Order Placement
Real-Time Tracking
Multiple Payment Options
Order History
Reviews and Ratings
Notifications
Favorites and Wishlists
Address Management
Chat/Support
Language and Localization
Profile Management
Promotions and Offers
Search and Browse
Cart and Order Management
Checkout and Payment
Support and Help Center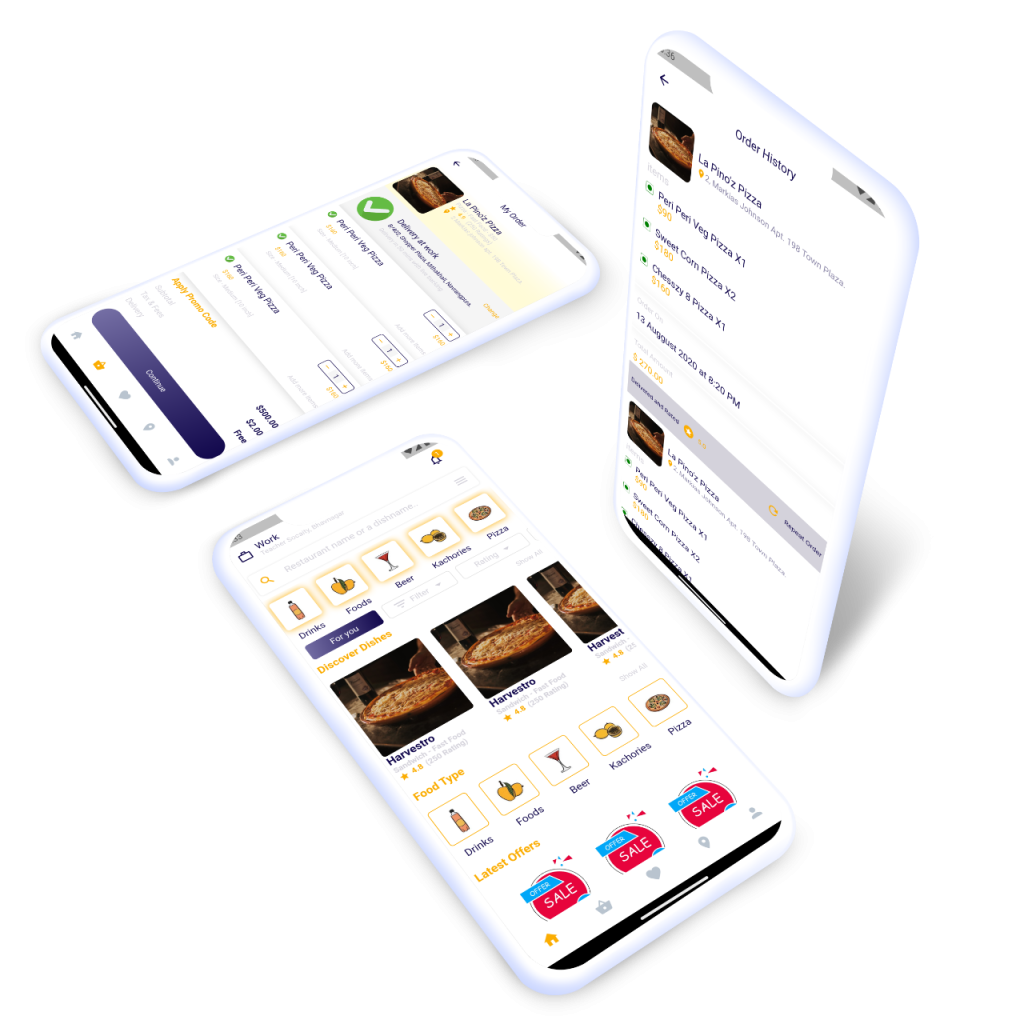 User Registration and Authentication:

Sign up using email, phone number, or social media accounts.
Two-factor authentication for enhanced security.

Browse Restaurants and Menus:

Search and filter restaurants based on cuisine, location, ratings, etc.
View restaurant profiles, menus, prices, and ratings.

Order Placement:

Add items to the cart.
Customize orders (e.g., specify toppings, and special instructions).
Apply promo codes or discounts.

Real-Time Tracking:

Track the status of orders in real time on a map.
Estimated delivery time and updates.

Multiple Payment Options:

Secure payment gateways (credit/debit cards, digital wallets, UPI, etc.).
Cash on delivery (if applicable).

Order History and Reordering:

View past orders and reorder easily.

Reviews and Ratings:

Rate restaurants and leave reviews.
View average ratings and reviews from other users.

Notifications:

Order confirmation, status updates, and delivery alerts through push notifications.

Favorites and Wishlists:

Save favorite restaurants or dishes for quick access.

Address Management:

Save multiple delivery addresses.
Option to set a default address.

Chat/Support:

In-app customer support or chat for assistance.

Language and Localization:

Support for multiple languages and localization based on user preferences.

Profile Management:

Edit user information, contact details, and profile picture.
🍔 Explore & Order: Dive into a diverse range of restaurants and cuisines. Browse through mouthwatering menus, complete with vivid images and detailed descriptions. With a few taps, your favorite dishes are ready to be added to your cart.
🛒 Easy Cart Management: Effortlessly manage your selections in the cart. Modify quantities, customize orders, and witness real-time cost updates. Enjoy a hassle-free checkout process with various secure payment options.
🚚 Track Your Feast: Stay connected with your order's journey in real time. Track its progress on a map from preparation to your doorstep, receiving timely notifications along the way.
🌟 Reviews & Ratings: Make informed choices by exploring honest user reviews and ratings for dishes, restaurants, and delivery experiences. Contribute your own feedback to help fellow food enthusiasts.
💰 Savings & Offers: Take advantage of special promotions and discounts, making your culinary adventures even more delightful. Apply promo codes and enjoy delectable meals without breaking the bank.
🏠 Multiple Addresses: Save and manage multiple delivery addresses for convenience. Whether you're at home, work, or elsewhere, your desired flavors are just a tap away.
🥡 Favorites & Wishlist: Curate your own culinary journey by marking your favorite dishes and restaurants. Create a wishlist for future orders, ensuring you never miss out on exceptional flavors.
📞 Help Center: Our in-app support ensures you're never far from assistance. Reach out to our customer support team for any queries, or explore our FAQs and guides for instant help.