Introducing FoodEaze, your ultimate food delivery app! Craving your favorite meal? Looking to explore new culinary delights? We've got you covered! Browse through a wide selection of restaurants offering cuisines from around the globe. From sizzling burgers to mouthwatering pizzas and everything in between, there's something to satisfy every craving.
Features
Ionic 7 Capacitor and Angular
30+ screens
Tested on both Android + iOS
Fully Responsive Mobile App
Full App Template
Clean & Optimized Cod
20+ Layouts
User-friendly Interface
Geolocation and Tracking
Multiple Payment Options
Personalized Recommendations
Dietary Preferences and Filters
Loyalty and Rewards Program
Ratings and Reviews
Promo Codes and Discounts
Order History and Favorites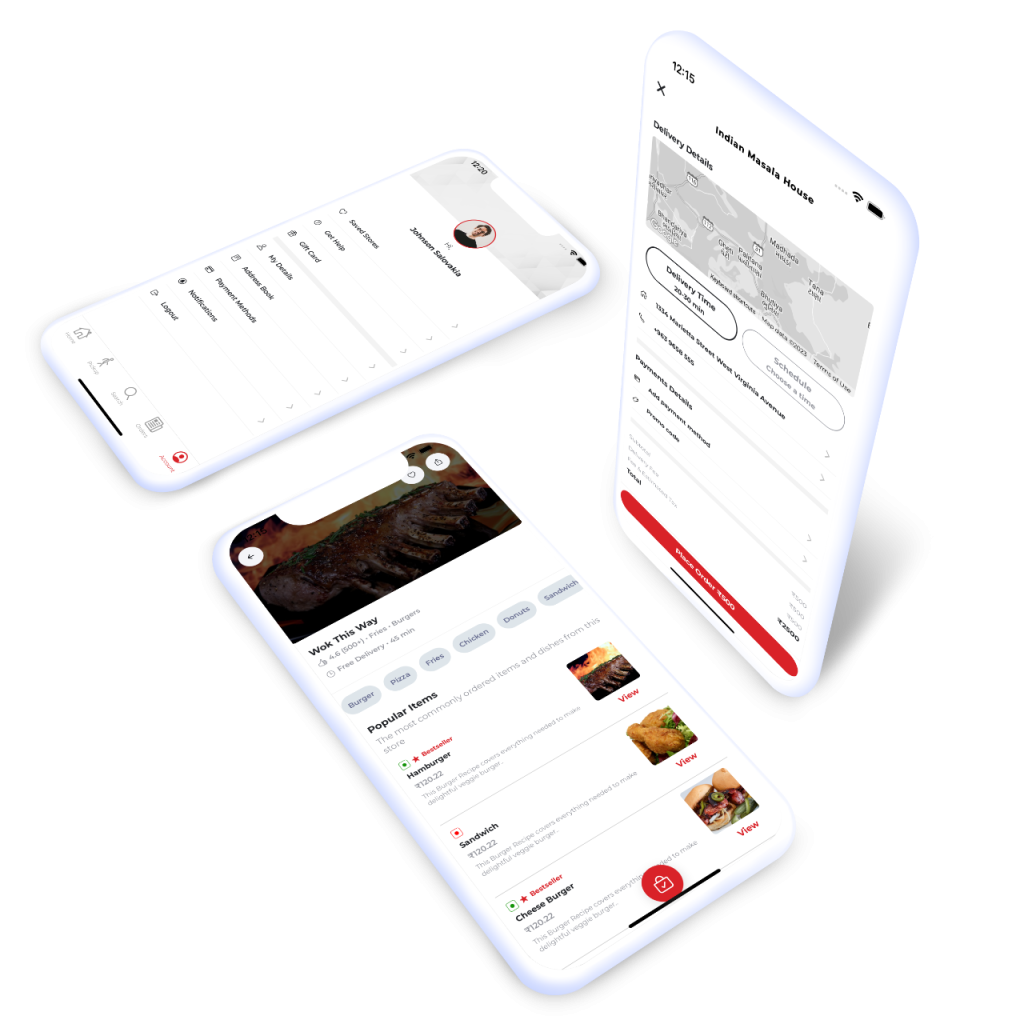 User-friendly Interface: Create an intuitive and easy-to-navigate interface for users to browse restaurants, menus, and place orders effortlessly.

Geolocation and Tracking: Allow users to share their location, and implement real-time order tracking so they can see the status of their delivery and the delivery driver's location.

Multiple Payment Options: Offer various payment methods, including credit/debit cards, digital wallets, and cash on delivery.

Personalized Recommendations: Utilize user data and order history to provide personalized food recommendations and special offers.

In-App Chat/Customer Support: Enable an in-app chat or customer support feature, so users can communicate with the restaurant or delivery driver easily.

Schedule Orders: Allow users to schedule food deliveries for later in the day or on specific dates.

Group Ordering: Facilitate group ordering, where multiple users can add items to a shared cart and place a single order for delivery.

Dietary Preferences and Filters: Include filters for dietary preferences (e.g., vegetarian, vegan, gluten-free) to help users find suitable restaurants and dishes.

Loyalty and Rewards Program: Implement a loyalty program that rewards users with points or discounts for frequent orders.

Social Media Integration: Allow users to share their food orders and experiences on social media platforms directly from the app.

Restaurant Management System: Offer a separate app or dashboard for restaurant owners to manage their menus, track orders, and update availability in real-time.

Ratings and Reviews: Enable users to rate and review restaurants and delivery drivers to help others make informed choices.

Promo Codes and Discounts: Offer promotional codes and discounts to encourage repeat orders and attract new customers.

Virtual Tipping: Provide an option for users to tip delivery drivers digitally, making the process more convenient and contactless.

Multi-language and Multi-currency Support: Cater to a broader audience by offering multiple language options and supporting different currencies.

Push Notifications: Send timely push notifications about order status, special deals, or new restaurant openings to keep users engaged.

Order History and Favorites: Allow users to view their order history and save favorite items or restaurants for quick reordering.

Advanced Search: Implement a powerful search feature that allows users to find specific dishes or cuisines quickly.

Contactless Delivery Options: In the wake of COVID-19 or for convenience, offer contactless delivery options where the driver can leave the order at the doorstep.

Integration with Third-Party Services: Integrate with popular services like Google Maps, to provide accurate location details, and social login options to simplify the sign-up process.