Create custom workout routines or follow expert-designed plans based on your fitness goals and preferences. Monitor your daily activity, calories burned, and steps are taken, and see your fitness journey come to life with intuitive graphs. Seamlessly connect with popular fitness wearables to sync your workout data effortlessly.
Features
Latest Flutter
Android + iOS
Full App Template
Optimised & Clean Code
20+ Layouts
User Registration and Login
Fitness Tracking
Exercise Library
Workout Plans
Custom Workouts
Progress Tracking
Activity Challenges
Push Notifications
Community and Support
Health and Fitness Articles
Accessibility Features
In-App Workouts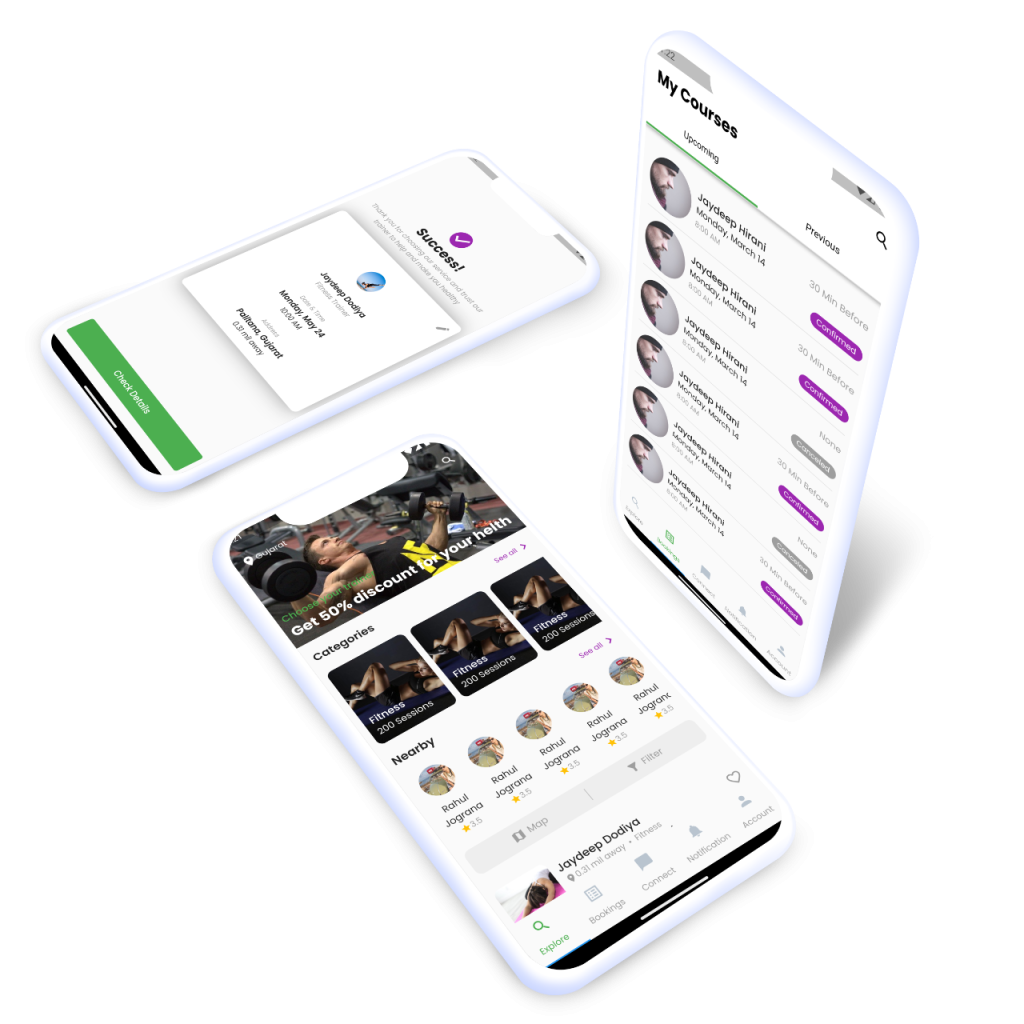 User Registration and Login:

Allow users to create accounts or sign in using email, social media, or Google accounts.

User Profile:

Enable users to set up and manage their profiles with personal information, fitness goals, and preferences.

Fitness Tracking:

Offer options for users to track their workouts, steps, distance covered, calories burned, etc.

Exercise Library:

Provide a comprehensive library of exercises with detailed instructions, images, and videos.

Workout Plans:

Allow users to create or follow pre-designed workout plans based on their goals and fitness levels.

Custom Workouts:

Give users the ability to create and save their custom workout routines.

Progress Tracking:

Display progress graphs and statistics to help users monitor their fitness journey over time.

Nutrition Tracking:

Incorporate a feature to track daily food intake, calorie consumption, and macronutrient distribution.

Water Intake Reminder:

Remind users to stay hydrated throughout the day with customizable water intake reminders.

Activity Challenges:

Organize fitness challenges or competitions to keep users motivated and engaged.

Social Features:

Implement social sharing to allow users to share their achievements, progress, and workout stats with friends and followers.

In-App Workouts:

Offer pre-recorded video workouts or live classes for users to follow along within the app.

Wearable Device Integration:

Allow integration with popular fitness wearables to sync data seamlessly.

Music Integration:

Enable users to connect their preferred music apps for a personalized workout soundtrack.

Gamification:

Incorporate gamification elements like badges, rewards, or leaderboards to boost user engagement.

Push Notifications:

Send reminders, motivational messages, or workout alerts to users through push notifications.

Challenges and Achievements:

Set up achievement milestones and challenges for users to strive for and celebrate their progress.

Community and Support:

Create a community space where users can connect, share experiences, and support each other.

Health and Fitness Articles:

Provide a blog or articles section with useful health and fitness content to educate and inspire users.

Accessibility Features:

Ensure that the app is accessible to users with disabilities by incorporating appropriate accessibility features.