Our custom Flutter Android  & iOS app similar to Instagram requires careful consideration of features that promote user engagement, photo and video sharing, and social interactions. Here's a comprehensive list of features you might consider incorporating: News Feed, Photo, and Video Sharing, Stories, Direct Messaging, Likes, Comments, and Shares
Features
Latest Flutter Version
Android + iOS
Full App Template
Optimised & Clean Code
20+ Layouts
User Registration
News Feed
Photo and Video Sharing
Stories
Direct Messaging
Explore and Discover
Likes, Comments, and Shares
Notifications
User Interactions
Hashtags and Geotags
Profile Customization
IGTV and Reels
Live Streaming
Analytics for Business Profiles
Privacy Settings
Multi-Account Support
Explore Trends
Accessibility Features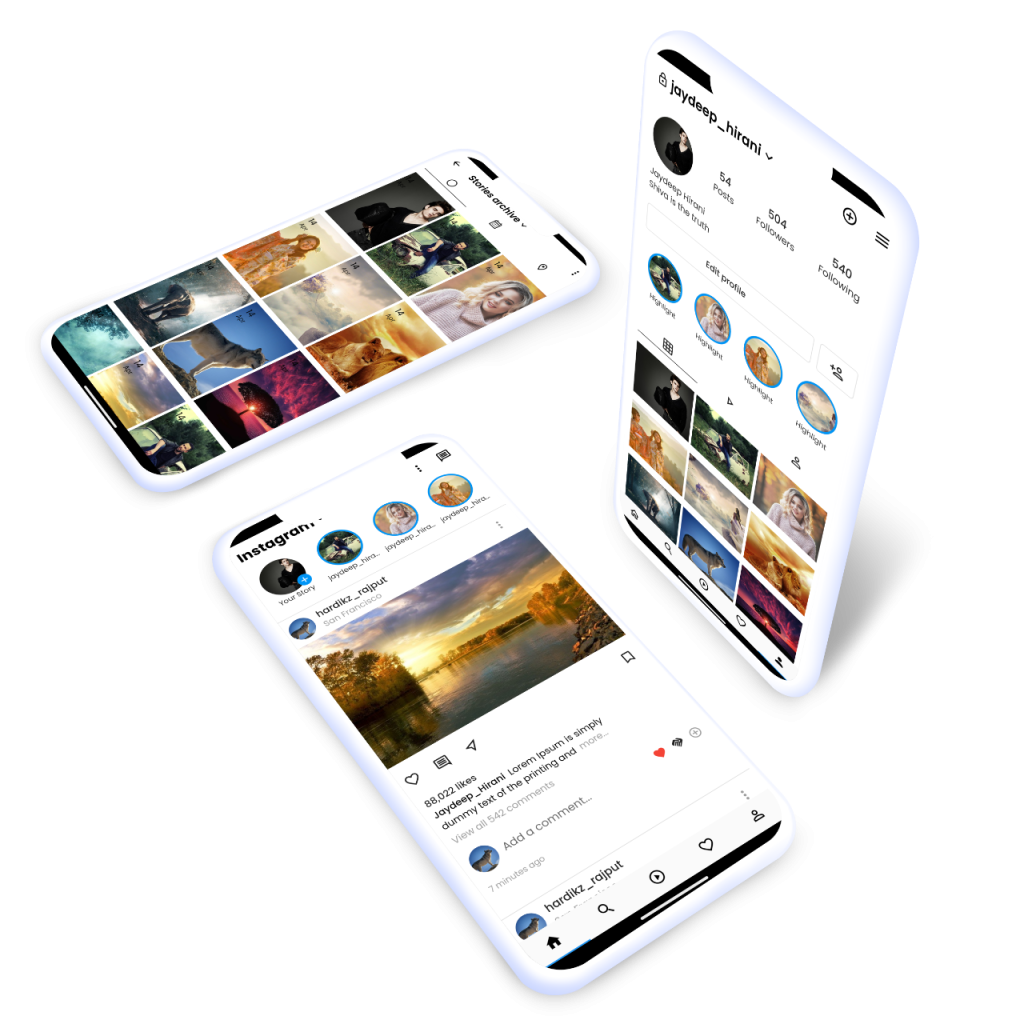 1. User Registration and Profiles:
User registration and login using email, phone number, or social media accounts.
User profiles with profile pictures, usernames, bios, and followers/following counts.
2. News Feed:
A personalized feed displaying posts from users the user follows.
Algorithmic content sorting based on relevance and user interaction.
3. Photo and Video Sharing:
Ability to capture and upload photos and videos from the device's camera or gallery.
Built-in photo and video editing tools, filters, and effects.
4. Stories:
Short-lived photo and video stories that disappear after 24 hours.
Stickers, text overlays, and drawing tools for story customization.
5. Direct Messaging:
Private messaging between users, including text, photos, videos, and reactions.
Group chats and the ability to share content from the feed.
6. Explore and Discover:
Explore page featuring popular and trending posts, as well as personalized recommendations.
Search functionality to discover users, hashtags, and locations.
7. Likes, Comments, and Shares:
Ability to like, comment on, and share posts.
Option to save posts to a personal collection.
8. Notifications:
Push notifications for likes, comments, new followers, and mentions.
Activity feed showing recent interactions related to the user's posts.
9. User Interactions:
Follow and unfollow other users.
Like and comment on posts.
Tag other users in posts and comments using @mentions.
10. Hashtags and Geotags: –
Ability to add hashtags and geotags to posts for discoverability and location-based context.
11. Profile Customization: –
Options to set a profile photo, create a bio, and choose a display name. – Highlighted Stories on the profile page.
12. IGTV and Reels: –
Integration of long-form video content through IGTV. – Short video content creation and discovery through Reels.
13. Live Streaming: –
Option to go live and broadcast video to followers in real-time. – Interaction with viewers through comments and reactions.
14. Analytics for Business Profiles: –
Insights and analytics for business profiles, including engagement metrics and audience demographics.
15. Privacy Settings: –
Account privacy settings to control who can follow, view, and interact with the user's content. – Ability to block and report users for inappropriate behavior.
16. Multi-Account Support: –
Option to switch between multiple accounts without logging out.
17. Explore Trends: –
Trending hashtags, challenges, and popular posts.
18. In-App Shopping: –
Integration with e-commerce features, allowing users to shop directly from posts.
19. Accessibility Features: –
Accessibility settings for users with disabilities, such as alt text for images and video captions.