Embark on unforgettable journeys with our custom travel app! Plan, explore, and experience the world like never before. Create personalized itineraries, discover hidden gems, and book flights and accommodations with ease. Navigate confidently with offline maps, get real-time weather updates, and connect with fellow travelers.
Features
Latest Flutter Version
Android + iOS
Full App Template
Optimised & Clean Code
30+ Layouts
User Profiles
Trip Planning
Destination Information
Flight and Hotel Booking
Travel Recommendations
Local Experiences
Navigation and Maps
Weather Forecasts
Language Translation
User Reviews and Ratings
Travel Community
Budget Tracking
Emergency Assistance
Travel Documents Storage
Notifications and Alerts
Social Sharing
Offer personalized travel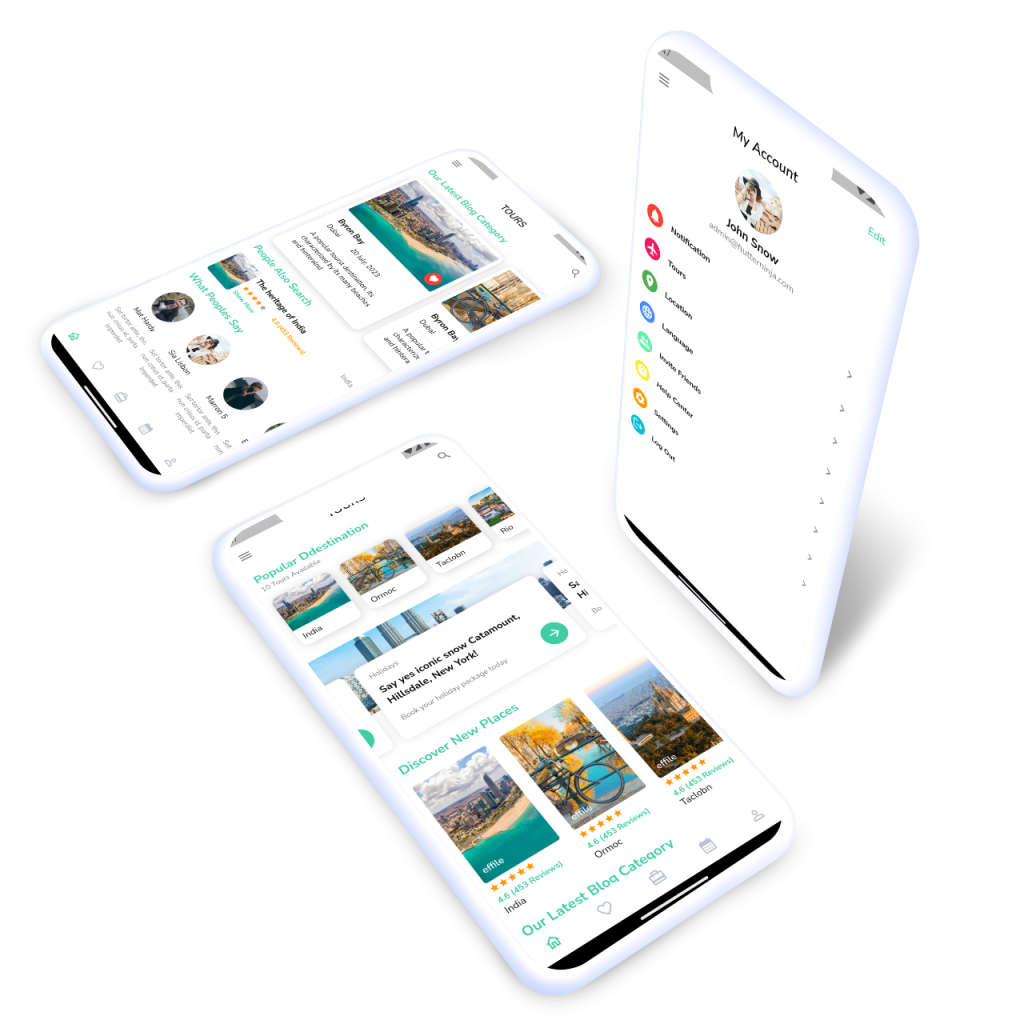 Trip Planning:

Create and organize itineraries for upcoming trips.
Add destinations, activities, accommodations, and transportation details.
Set reminders and notifications for important events during the trip.

Destination Information:

Provide detailed information about various destinations, including attractions, landmarks, local culture, and cuisine.
Offer travel guides, city maps, and offline access to information.

Flight and Hotel Booking:

Integrate with flight and hotel booking APIs to allow users to search, compare, and book flights and accommodations directly within the app.

Travel Recommendations:

Offer personalized travel recommendations based on user preferences, interests, and past travel history.

Local Experiences:

Suggest local experiences, tours, and activities available at the destination.
Allow users to book these experiences through the app.

Navigation and Maps:

Provide GPS-based navigation and interactive maps for navigating through the destination.
Offer offline maps for use in areas with limited connectivity.

Weather Forecasts:

Display current and forecasted weather conditions for the destination.

Currency Conversion:

Include a currency converter to help users understand local currency values and make informed spending decisions.

Language Translation:

Offer real-time language translation to assist users in communicating with locals.

User Reviews and Ratings:

Allow users to rate and review accommodations, restaurants, attractions, and other services.

Travel Community:

Create a platform for travelers to connect, share experiences, and offer advice.

Budget Tracking:

Help users track their expenses and stay within their travel budget.

Offline Access:

Enable users to download essential information and maps for offline access during their travels.

Emergency Assistance:

Provide emergency contact information, medical facilities, and embassy/consulate details for different destinations.

Travel Documents Storage:

Allow users to store digital copies of their travel documents, such as passports, visas, and travel insurance.

Notifications and Alerts:

Send relevant travel updates, reminders, and alerts to users before and during their trips.

Social Sharing:

Integrate with social media platforms, allowing users to share their travel experiences with friends and family.

Augmented Reality (AR) Guides:

Offer AR-powered guides that provide real-time information about landmarks and points of interest.

Virtual Reality (VR) Previews:

Provide users with virtual reality previews of destinations and attractions to help them plan better.

User Profiles:

Allow users to create profiles with their travel preferences, past trips, and saved itineraries.