Unleash the world of entertainment with our custom Netflix app. Dive into an expansive collection of movies, TV shows, and original content at your fingertips. Personalized recommendations, seamless browsing, and multi-device access make your viewing experience truly yours.
Flutter
Latest Flutter Version
Android + iOS
Full App Template
Optimised & Clean Code
20+ Layouts
User Profiles
Content Library
Search and Browse
Continue Watching
My List
Recommendations
Multiple Devices
Parental Controls
Language and Subtitles
Audio and Video Quality
Skip Intros and Previews
Profile Customization
Notifications
Sharing and Social Integration
Streaming Quality Settings
Feedback and Help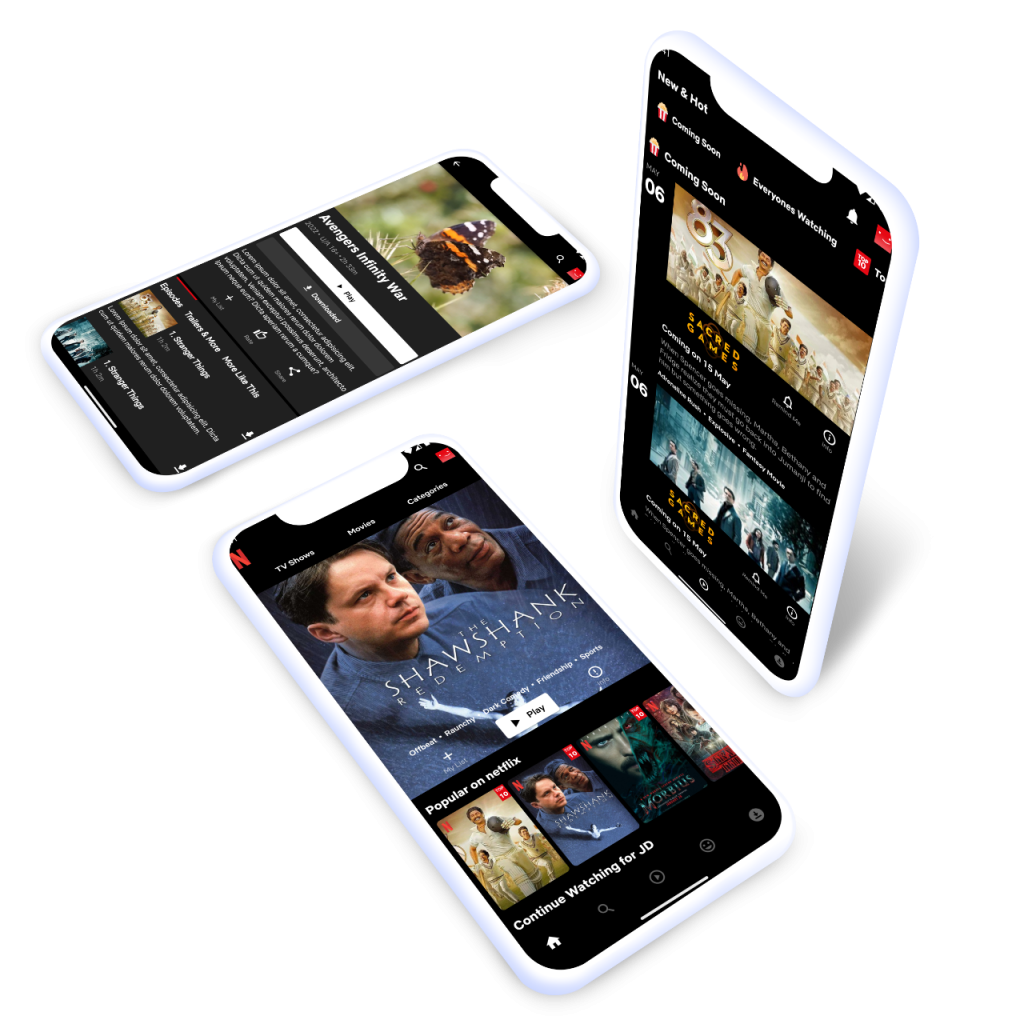 User Profiles:

Multiple user profiles under a single account for personalized recommendations and viewing history.

Content Library:

Extensive collection of movies, TV shows, documentaries, and original content.
Content categorized by genres, popularity, release date, and more.

Search and Browse:

Robust search functionality to find specific titles.
Easy browsing with scrollable rows of content based on preferences.

Continue Watching:

Option to resume playback from where you left off on any device.

My List:

Save titles to a personal watchlist for easy access later.

Recommendations and Algorithms:

Personalized content recommendations based on viewing history and preferences.
"Top Picks" or "Recommended for You" sections.

Download and Offline Viewing:

Download content to watch offline on mobile devices.

Multiple Devices:

Access the app across various devices, including smartphones, tablets, smart TVs, and computers.

Parental Controls:

Set up parental controls to restrict content based on maturity level.

Language and Subtitles:

Support for multiple languages and subtitles for global audiences.

Audio and Video Quality:

Adaptive streaming for optimal video quality based on available bandwidth.
Support for high-definition (HD) and ultra-high-definition (UHD) content.

Skip Intros and Previews:

Skip intros or previews to jump directly into the main content.

Auto-Play and Autoplay Controls:

Autoplay of the next episode in a series.
User controls to enable or disable autoplay.

Profile Customization:

Ability to customize user profiles with avatars and names.

Original Content:

Exclusive shows and movies produced by Netflix.

Recently Added:

Section highlighting the latest additions to the library.

Notifications:

Notifications for new releases, upcoming shows, and content recommendations.

Sharing and Social Integration:

Share content recommendations with friends and on social media.

Streaming Quality Settings:

Control streaming quality based on data usage preferences.

Feedback and Help:

Provide feedback on content, app performance, and user experience.
Access to help and support resources.