Create your own quizzes with ease, tailor-made for any topic or occasion, Compete against others and climb to the top of the leaderboard. Show off your quiz mastery! Explore a wide range of categories, from general knowledge to niche interests. Earn rewards and badges for completing quizzes and achieving milestones.
Features
Ionic 7 Capacitor & Angular
Android + iOS
Fully Functional Template
Optimised & Clean Code
15+ Layouts
User Registration and Profiles
Quiz Categories
Time-Limited Quizzes
Leaderboards
Progress Tracking
Rewards and Badges
Notifications
Review and Feedback
User Reports
Accessibility Features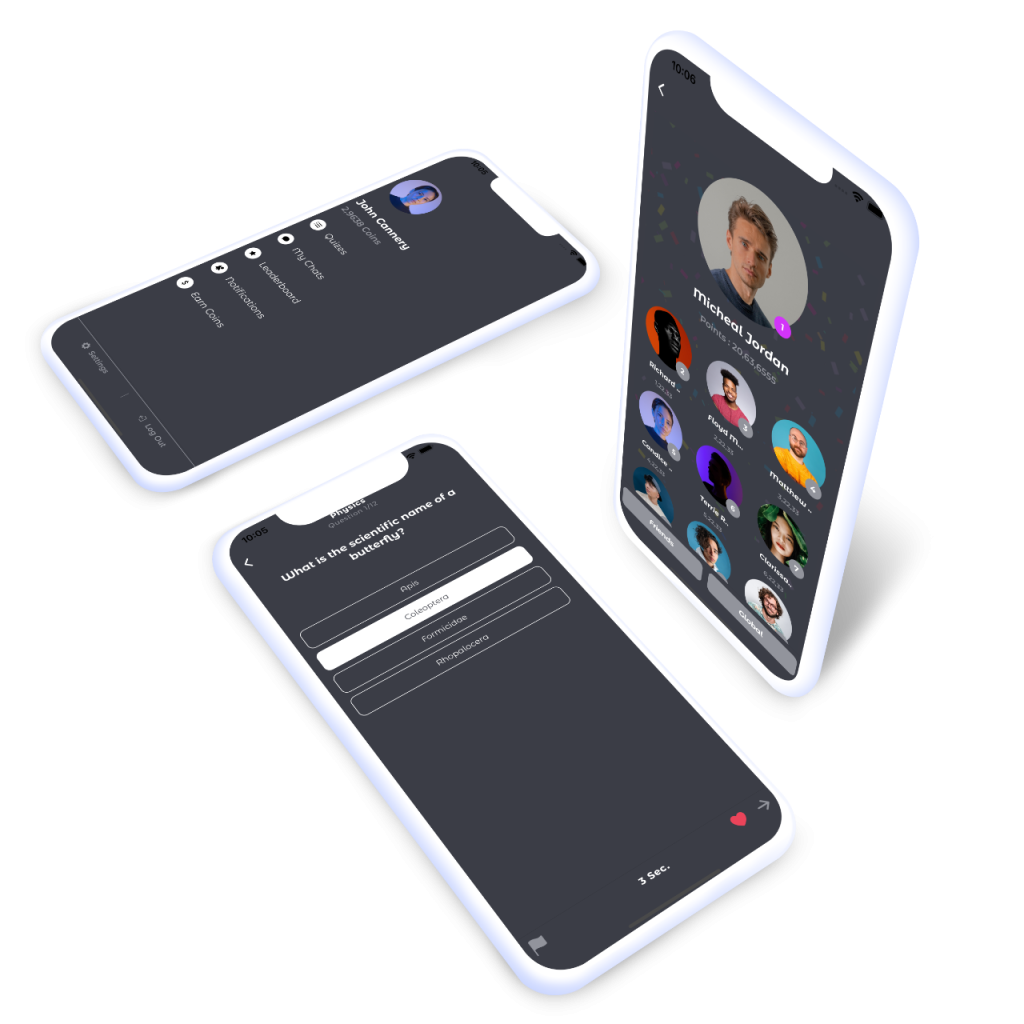 User Registration and Profiles: Allow users to create accounts, log in, and manage their profiles. This enables them to track their progress, scores, and achievements.

Quiz Creation and Management: A user-friendly interface for quiz creation, where admins can add questions, set multiple-choice options, and define correct answers.

Quiz Categories: Organize quizzes into different categories or topics, making it easy for users to find quizzes that interest them.

Time-Limited Quizzes: Add an option to set a time limit for each quiz to increase excitement and competitiveness.

Leaderboards: Display high scores and top performers on leaderboards to encourage healthy competition among users.

Progress Tracking: Allow users to track their quiz history, view completed quizzes, and see their performance trends over time.

Random Quiz Mode: Enable a random quiz mode that selects questions from various categories, offering users a fun and challenging experience.

Social Sharing: Integrate social media sharing options, so users can share their quiz results and invite friends to participate.

Offline Mode: Offer offline access to quizzes once they have been downloaded, ensuring users can play without an internet connection.

Analytics and Insights: Provide detailed analytics to admins, showing popular quizzes, user engagement, and areas for improvement.

Rewards and Badges: Implement a reward system with badges, trophies, or points to incentivize users to take more quizzes and perform well.

Notifications: Send push notifications to users to inform them about new quizzes, upcoming events, or important updates.

Multi-Language Support: Allow users to select their preferred language for a better user experience.

Review and Feedback: Offer users the option to provide feedback on quiz questions and suggest improvements.

User Reports: Enable users to report inappropriate or inaccurate quiz content.

In-App Purchases: Consider offering premium quizzes or removing ads through in-app purchases.

Multi-Platform Compatibility: Ensure your app works on both iOS and Android devices to reach a broader audience.

Accessibility Features: Make the app accessible to all users, including those with visual or hearing impairments.

Integration with Learning Platforms: Collaborate with educational institutions or e-learning platforms to use your app as a learning tool.

Customization Options: Allow users to customize the app's appearance, such as themes and color schemes.