Enjoy seamless instant messaging, voice, and video calls with friends and family. Share photos, videos, and files in the blink of an eye. Express yourself with emojis and stickers. Your privacy is our top priority with end-to-end encryption.
Tailor your messaging experience to your liking. Choose personalized themes, chat backgrounds, and vibrant emojis. Share your unique style with custom stickers and reactions. Enjoy seamless voice and video calls with crystal-clear quality.
Features
Ionic 7 Capacitor and Angular
20+ screens
Tested on both Android + iOS
Fully Responsive Mobile App
Full App Template
Clean & Optimized Code
Welcome Screen
Auth Screen
Login & Register Screen
Sleep Mode Auth
Feedback Screen
Reset Password Screen
Slide Tabs
Skeleton Screens
Messages & Chat List
Groups List
Status Modals
Audio & Video Call
Chat Attachment Modals (Location, Contacts, Images, Files Etc)
Chats Settings & Profiles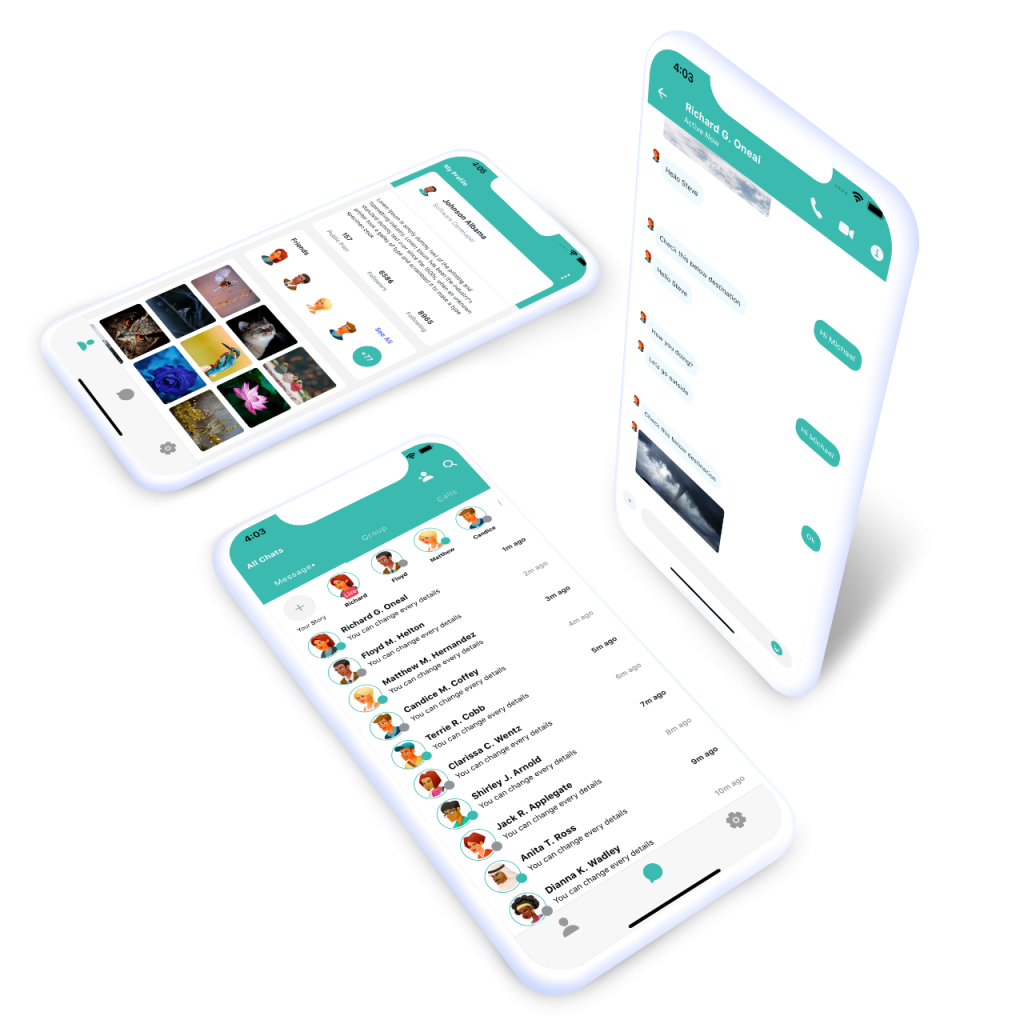 Personalized Profiles: Users can create unique profiles with avatars, display names, and status updates.

Real-Time Messaging: Instant messaging with real-time message delivery.

Emojis and Stickers: A rich collection of emojis and custom stickers to express emotions and personalities.

Multimedia Sharing: Share photos, videos, and other files seamlessly within the chat.

Voice and Video Calls: High-quality voice and video calls for face-to-face communication.

Group Chats: Create and participate in group conversations with family, friends, or colleagues.

Message Editing and Deleting: The ability to edit or delete sent messages.

Message Reactions: React to messages with emojis or predefined reactions.

Read Receipts and Typing Indicators: See when messages are read and when others are typing.

Push Notifications: Receive alerts for new messages even when the app is closed.

End-to-End Encryption: Ensure user data and messages are secured and private.

Customizable Themes: Allow users to choose from various themes and chat backgrounds.

Chat Bot Integration: Incorporate chat bots for automated interactions and information retrieval.

Message Search: Search for specific messages or content within the chat history.

Online Status: Indicate if a user is currently online or offline.

File and Document Sharing: Send and receive various file types, like PDFs, documents, etc.

User Blocking and Reporting: Give users the ability to block or report inappropriate users.

Multi-Platform Syncing: Sync chat across different devices (e.g., mobile, web, desktop).

Notifications Customization: Allow users to control their notification preferences.

User Authentication and Security: Implement secure user authentication and data protection.

Contact Integration: Sync with user's phone contacts for easy connection.

Status Updates: Option to share current status or availability.

Voice Message Recording: Record and send short voice clips.

Location Sharing: Share real-time location with others in the chat.

Integration with External Services: Connect with other apps or services like social media, productivity tools, etc.
Remember, the features you include may depend on your target audience and the specific purpose of the chat app. You can customize these features further to create a unique and appealing user experience.