Our custom Hotstar Video Streaming app allows you to establish a unique brand identity with a personalized user interface, logo, colors, and design elements. While building a custom app requires an initial investment, it can lead to long-term cost savings by avoiding third-party licensing fees and customization limitations associated with ready-made solutions.
Features
Latest Flutter Version
Android + iOS
Full App Template
Optimised & Clean Code
20+ Layouts
User Registration
Content Catalog
Search and Recommendations
Video Playback
Content Details
Multiple Device Support
Multiple User Profiles
Parental Controls
Social Interaction
Notifications
Payment and Subscription
Content Management
Analytics and Insights
Customer Support
Personalized Playlists
Separate recommendations
Synced viewing history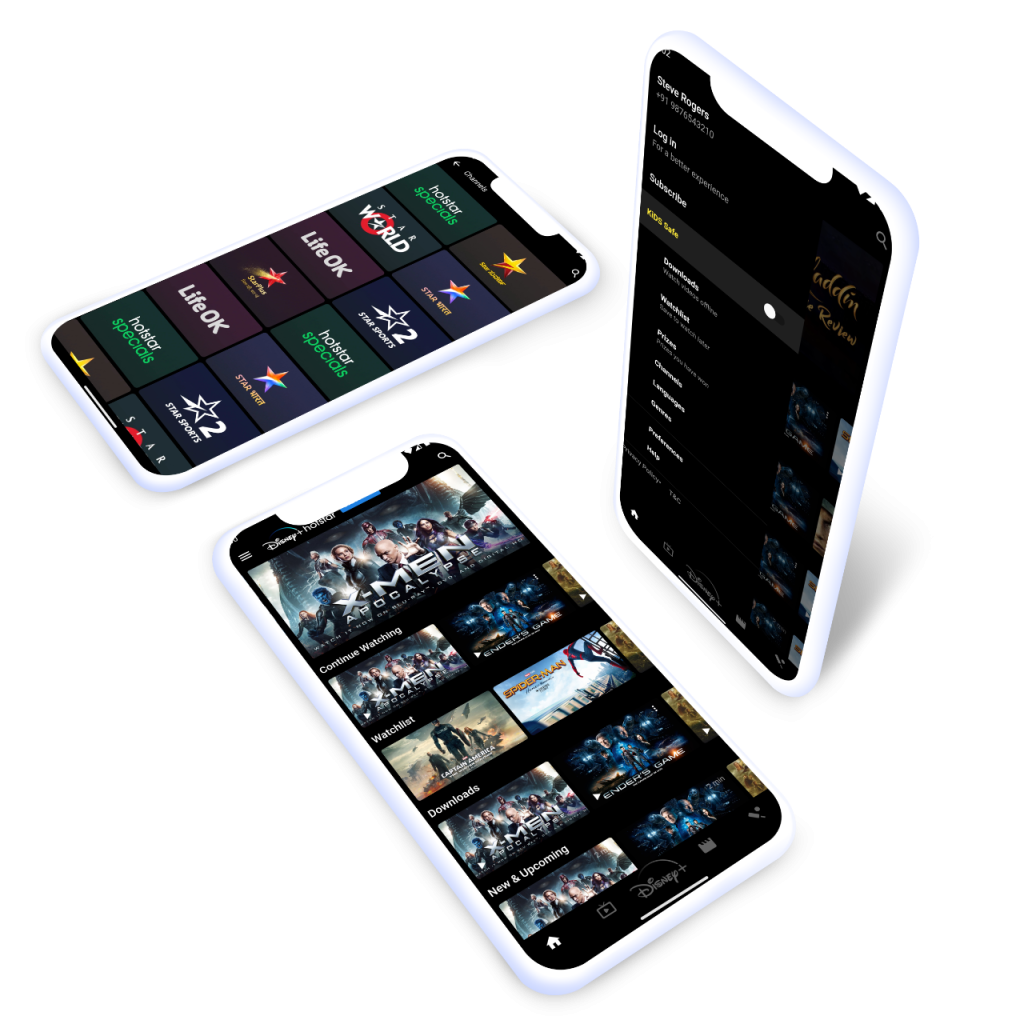 1. User Registration and Profiles:
User registration and login via email, social media, or phone number.
Personalized user profiles with avatars, viewing history, preferences, and watchlists.
2. Content Catalog:
A vast library of movies, TV shows, documentaries, and original content.
Easy categorization and filtering based on genres, release dates, ratings, etc.
3. Search and Recommendations:
Robust search functionality with predictive text and suggestions.
AI-powered content recommendations based on user preferences and viewing history.
4. Video Playback:
Adaptive streaming for different network conditions and devices.
High-definition (HD) and ultra-high-definition (UHD) video playback support.
Seamless switching between devices while resuming content.
5. Content Details:
Detailed information about movies and TV shows, including cast, crew, synopsis, ratings, trailers, and related content.
6. Offline Viewing:
Downloadable content for offline viewing during limited periods.
Management of downloaded content and automatic deletion after a specified time.
7. Multiple Device Support:
Cross-platform availability on smartphones, tablets, smart TVs, web browsers, etc.
Synced viewing history and watchlists across devices.
8. Multiple User Profiles:
Support for multiple user profiles under a single account.
Separate recommendations and watchlists for each profile.
9. Parental Controls:
Content filtering and age restrictions.
PIN or password protection for certain content.
10. Social Interaction:
Social media integration for sharing what users are watching.

Integration with friends' lists and the ability to see what friends are watching.
11. Notifications:
Push notifications for new content releases, recommendations, and user interactions.
12. Payment and Subscription Management:
In-app subscription options with different plans (monthly, yearly, etc.). 
Secure payment gateway integration for subscription payments.
13. Content Management:
 Admin dashboard for managing content, adding new releases, and scheduling updates. 
Content categorization, tagging, and metadata management.
14. Analytics and Insights:
User engagement metrics, popular content, and viewing patterns.
Insights to refine recommendations and improve user experience.
15. Customer Support:
Help center with FAQs, troubleshooting guides, and contact information. 
In-app customer support chat or email.
16. Original Content Creation:
Ability to create and upload user-generated content (if applicable).
17. Personalized Playlists:
The ability for users to create their own playlists or collections.