Embark on unforgettable journeys with our custom ionic travel app template. Discover new destinations, plan personalized itineraries, and immerse yourself in local experiences. From flight bookings to offbeat activities, our app has you covered. Explore interactive maps, find hidden gems, and capture memories with ease. Get real-time updates, language translation, and budgeting tools for seamless travel.
Features
Ionic 7 Capacitor & Angular
Android + iOS
Fully Functional Template
Optimised & Clean Code
20+ Layouts
Destination Information
Flight and Hotel Booking
Trip Planning
Travel Guides and Reviews
Language Translation
Travel Alerts and Notifications
Packing Checklist
Budget Tracking
Travel Deals and Discounts
Public Transportation Information
Travel Tips and Advice
User Profiles and Community
Group Travel Planning
Personalized Recommendations
Local Cuisine and Restaurant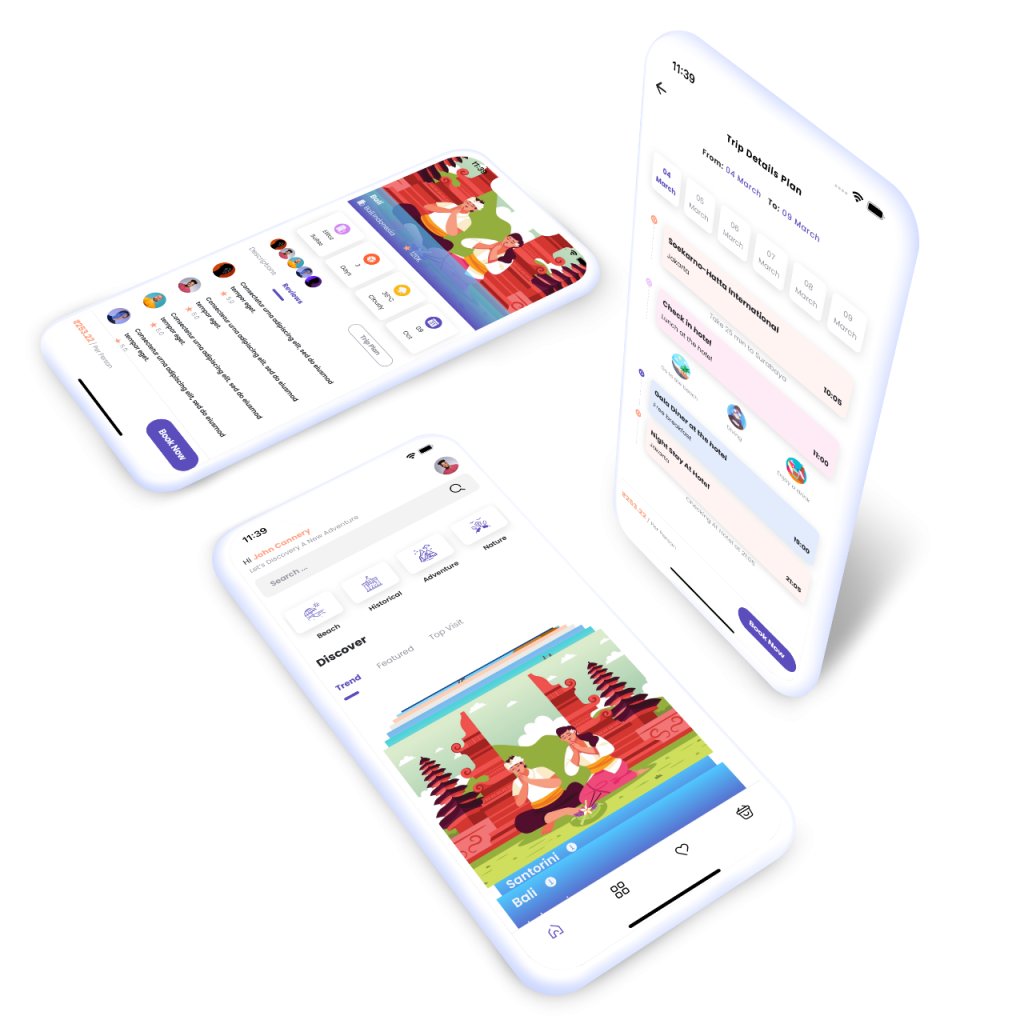 Personalized Recommendations:

Offer personalized travel recommendations based on user preferences, travel history, and behavior.

Interactive Maps:

Provide interactive and customizable maps that highlight points of interest, nearby attractions, and user-created itineraries.

Augmented Reality (AR) Guides:

Implement AR features to offer interactive and informative guides for landmarks and attractions.

Group Travel Planning:

Allow users to plan trips collaboratively with their friends or family, making it easier to coordinate and share ideas.

Social Travel Planning:

Integration with social media to share travel plans, photos, and experiences with friends and followers.

Local Experiences and Activities Booking:

Offer a platform for users to book local tours, activities, and experiences directly from the app.

Offline Language Translation and Phrasebook:

Provide offline language translation and a handy phrasebook to help users communicate in foreign languages.

Travel Analytics:

Provide users with insights into their travel history, such as places visited, distance traveled, and countries explored.

Travel Budgeting and Expense Splitting:

Offer advanced budgeting tools to help users manage expenses during their trip, including the ability to split costs for group travel.

Real-Time Travel Alerts and Updates:

Notify users about flight status, gate changes, delays, and other real-time travel updates.

Local Cuisine and Restaurant Recommendations:

Offer recommendations for local restaurants and cuisine based on user preferences and reviews.

Travel Challenges and Badges:

Gamify the travel experience by providing challenges and rewarding users with badges for completing certain tasks or visiting specific places.

Weather-Based Activity Recommendations:

Suggest activities and attractions based on the weather forecast for the destination.

Travel Journal and Memories:

Allow users to create digital travel journals to document their experiences and preserve memories.

One-Click Emergency Assistance:

Include an emergency button that connects users to local emergency services and provides essential contact information.

Sustainable Travel Tips:

Encourage sustainable travel practices and provide eco-friendly travel tips.

Airport and Lounge Information:

Provide airport information, including terminal maps, amenities, and lounge access details.

Travel Insurance Integration:

Offer integration with travel insurance providers to allow users to purchase coverage directly within the app.

Public Transport Navigation:

Include real-time public transportation schedules and navigation for seamless travel within the destination city.

Travel Community and Reviews:

Create a vibrant travel community where users can share their experiences, tips, and reviews.