Our FoodiesPoint is a delightful platform that caters to the interests of food enthusiasts, which will help you to Allow users to create profiles with information such as their favorite cuisines, dietary preferences, cooking skills, and a bio. This helps users connect with like-minded foodies.
Features
Ionic 7 Capacitor and Angular
30+ screens
Tested on both Android + iOS
Fully Responsive Mobile App
Full App Template
Clean & Optimized Code
30+ Layouts
User Profiles
Foodie Feed
Food Photos and Videos
Recipes and Cooking Tips
Restaurant and Food Reviews
Food Events and Meetups
Food Challenges
Food Blogging
Food Pairing Suggestions
Personalized Recommendations
Foodie Influencers
Social Sharing Integration
Local Food Maps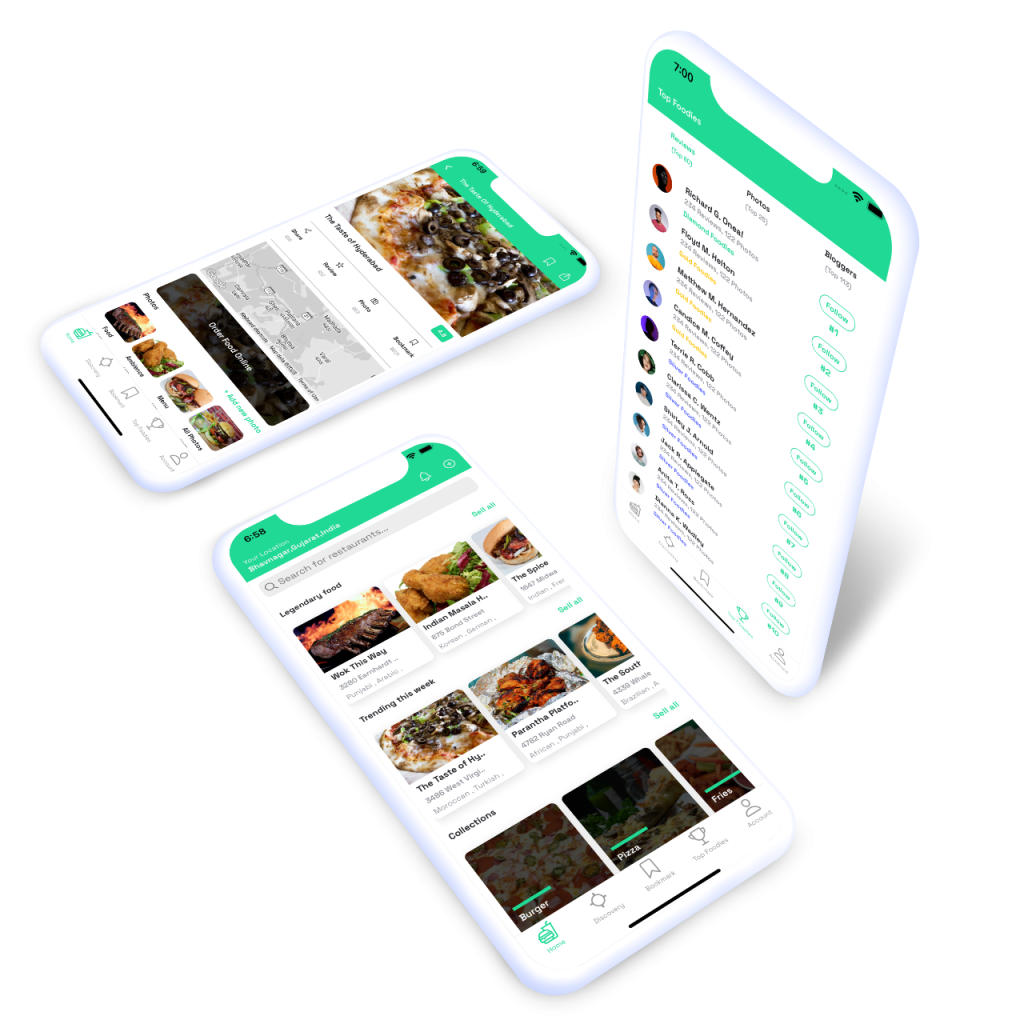 User Profiles: Allow users to create profiles with information such as their favorite cuisines, dietary preferences, cooking skills, and a bio. This helps users connect with like-minded foodies.

Foodie Feed: A personalized feed that shows users posts, photos, and recipes from the foodies they follow. The feed can also display trending dishes and popular recipes.

Food Photos and Videos: Users should be able to share appetizing food photos and short recipe videos to showcase their culinary creations or restaurant experiences.

Recipes and Cooking Tips: Enable users to share and discover recipes, cooking tips, and tricks. The app could feature a user-friendly recipe editor to create and publish recipes within the app.

Restaurant and Food Reviews: Allow users to rate and review restaurants, cafes, and street food vendors. These reviews can help others find great places to eat.

Food Events and Meetups: Users can create and join food-related events and meetups in their area. This fosters a sense of community and allows foodies to share experiences in person.

Food Challenges: Organize food-related challenges, such as cooking competitions or eating challenges, for users to participate in and share their results.

Food Blogging: Provide an option for users to create food blogs within the app, allowing them to share their food experiences in a more detailed and narrative format.

Foodie Groups: Users can join or create groups based on their specific interests, such as vegan cooking, baking, regional cuisines, etc.

Ingredient Scanner: Incorporate an ingredient scanner using image recognition technology to identify ingredients from pictures and provide related recipes or information.

Food Pairing Suggestions: Offer food pairing recommendations to help users create complementary and exciting combinations of dishes and beverages.

Personalized Recommendations: Use machine learning algorithms to suggest recipes, restaurants, or food events based on the user's preferences and past interactions within the app.

Shopping List and Meal Planning: Integrate a feature that allows users to create shopping lists and plan their meals for the week based on recipes they find on the platform.

Gamification Elements: Introduce badges, achievements, or points for completing challenges, contributing quality content, and engaging with other users.

Foodie Influencers: Recognize and highlight top foodie influencers and their content, encouraging healthy competition and inspiring others to improve their culinary skills.

Social Sharing Integration: Enable users to share their food-related content and activities on other social media platforms, further promoting the app and engaging a wider audience.

In-App Messaging: Allow users to communicate with each other through private messaging or group chats to discuss recipes, food events, and other food-related topics.

Privacy and Safety: Implement robust privacy settings and moderation features to ensure a safe and enjoyable environment for all users.

Local Food Maps: Integrate a map feature to discover nearby restaurants, food markets, and specialty stores.

Food Donation Initiatives: Incorporate features that encourage users to support food donation programs or reduce food waste by sharing surplus ingredients or meals.