Discover a new way to shop with our custom eCommerce app. Experience a seamless and user-friendly interface that allows you to browse, explore, and purchase a wide range of products with just a few taps. From the latest trends to must-have essentials, our app brings the world of online shopping right to your fingertips. Enjoy secure transactions, personalized recommendations, and timely updates on exclusive deals. Elevate your shopping experience today and join a community of satisfied customers who have found convenience, reliability, and joy in our custom eCommerce shopping app.
Features
Ionic 7 Capacitor and Angular
30+ screens
Tested on both Android + iOS
Fully Responsive Mobile App
Full App Template
Clean & Optimized Code
E-Commerce Full Template
Welcome Screen
Login & Register Screen
Social Login Modal
Reset Password Screen
Tabs Layout
Sliders Content
Categories-Based Screen
Search Screen
Offers Screen
Favorite Screen
Categories Layouts
Products Single Product Details
Variation Modal
Reviews & Rating
Cart & Payment
Accounts Screen
Order History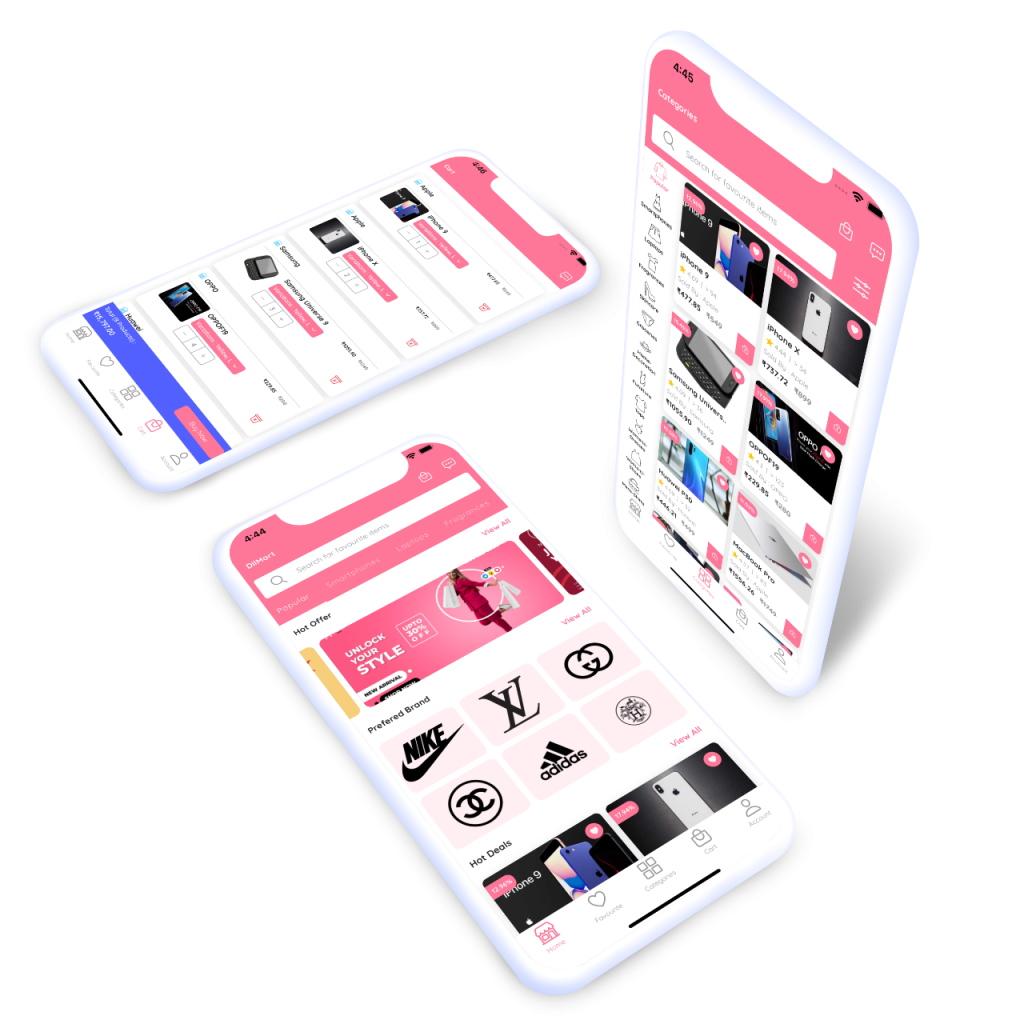 User-friendly Interface: A clean and intuitive interface that makes navigation easy for users of all ages and technical proficiency.

Product Categories: Organize products into various categories and subcategories for quick and convenient browsing.

Search Functionality: A powerful search bar to allow users to find specific products or brands quickly.

Product Pages: Detailed product pages with images, descriptions, prices, customer reviews, and related products.

User Accounts: Secure user registration and login with options to save personal information and track order history.

Shopping Cart: A virtual cart that holds selected items until the user is ready to checkout.

Multiple Payment Options: Integration with various payment gateways to facilitate secure and convenient transactions.

Wishlist: Enable users to create and manage wishlists for products they want to purchase in the future.

Order Tracking: Real-time order tracking to keep users informed about their shipment status.

Discounts and Coupons: Support for applying discounts, promotional codes, and coupons during checkout.

Push Notifications: Send personalized alerts and updates on order status, price drops, and special offers.

Social Sharing: Allow users to share their favorite products or purchases on social media platforms.

Rating and Reviews: Enable customers to leave feedback and ratings on products they've purchased.

Secure Checkout: Implement strong security measures to ensure the safety of user data and transactions.

Personalized Recommendations: Utilize machine learning algorithms to provide personalized product recommendations based on user behavior and preferences.

Multi-Language and Currency Support: Cater to a diverse audience by offering multiple language options and supporting different currencies.

One-Click Reordering: Allow users to easily reorder their frequently purchased items with a single click.

Customer Support: Provide a seamless way for users to get in touch with customer support for queries and assistance.

Mobile Wallet Integration: Allow users to link their mobile wallets for faster and more convenient payments.

Integration with Social Media: Enable users to sign up and log in using their social media accounts.

Easy Returns and Refunds: Streamline the returns and refunds process for improved customer satisfaction.

Product Availability Notifications: Allow users to request notifications when out-of-stock items become available.