Stay ahead of the market with real-time stock quotes, interactive charts, and powerful research tools at your fingertips. Create your custom watchlist, track your portfolio performance, and receive timely alerts on price changes and news updates.
Features
Ionic 7 Capacitor & Capacitor
Android + iOS
Fully Functional Template
Optimised & Clean Code
50+ Layouts
Stock Exchange App
Real-time Stock Quotes
Watchlist
Portfolio Tracking
Charts and Graphs
News and Insights
Stock Screeners
Alerts and Notifications
Virtual Trading
Research Tools
Fundamental Data
Technical Indicators
User Profiles
Financial Education
Secure Authentication
Multiple Market Support
Stock Comparison
Market Sentiment Analysis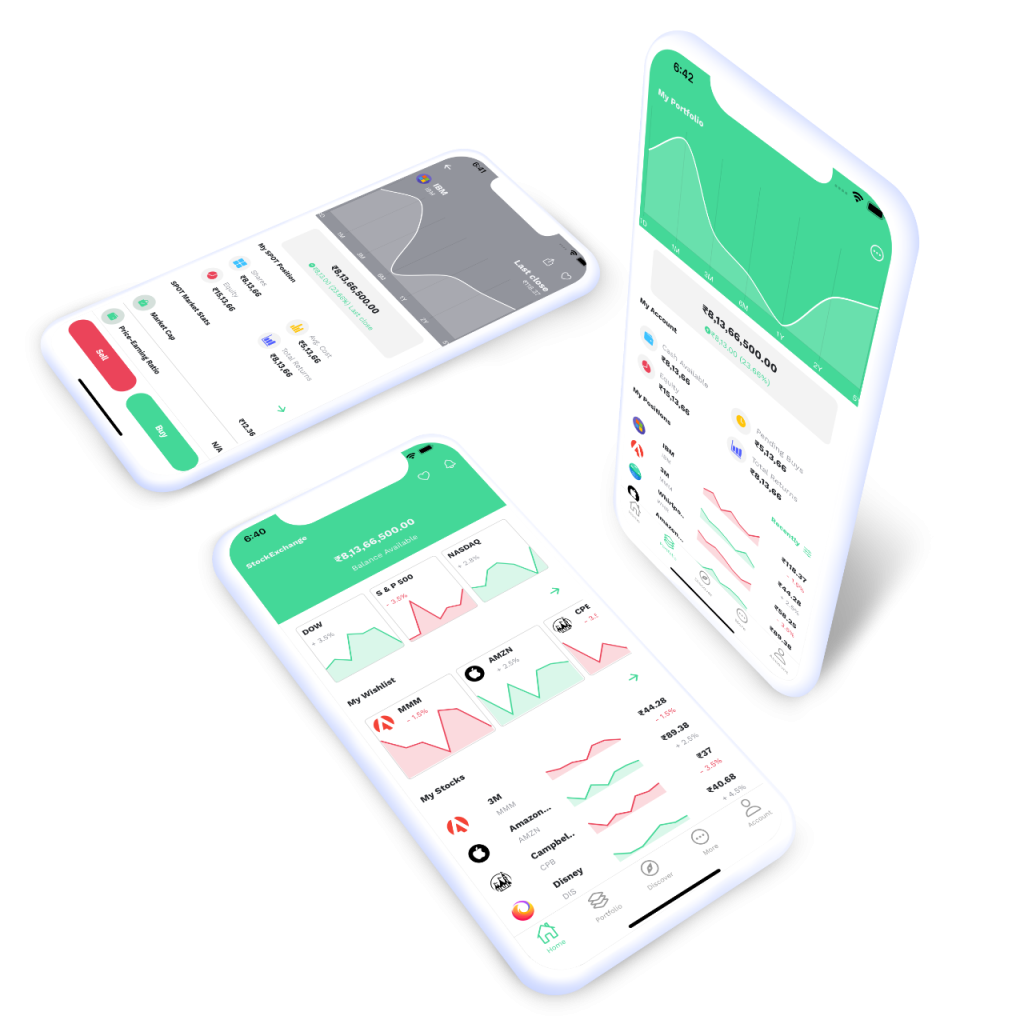 Real-time Stock Quotes: Display live stock prices and market data.

Watchlist: Allow users to create and manage a personalized list of stocks they want to track.

Portfolio Tracking: Enable users to monitor the performance of their investment portfolios.

Charts and Graphs: Provide interactive and customizable stock charts for analysis.

News and Insights: Offer up-to-date financial news, analysis, and market insights.

Stock Screeners: Allow users to filter and find stocks based on specific criteria.

Alerts and Notifications: Send push notifications for price changes, news, or other important events.

Virtual Trading: Offer a simulated trading environment for practice without real money.

Research Tools: Provide access to in-depth research reports and analysis from experts.

Fundamental Data: Include financial ratios, earnings reports, and other company fundamentals.

Technical Indicators: Integrate various technical analysis tools for chart analysis.

Social Features: Allow users to share ideas, strategies, and tips with other investors.

User Profiles: Let users create profiles and showcase their portfolio performance.

Financial Education: Provide educational resources for beginner investors.

Broker Integration: Offer integration with popular brokerage accounts for trading directly from the app.

Secure Authentication: Implement strong security measures to protect user data.

Multiple Market Support: Include major stock markets from around the world.

Dividend Tracking: Enable users to track and manage dividend income.

Financial Calendar: Display upcoming earnings reports, dividends, and other important events.

Dark Mode: Offer a dark theme for easier viewing at night or in low-light environments.

Customization: Allow users to customize the app's layout, colors, and settings.

Performance Analytics: Provide detailed insights into portfolio performance over time.

Cryptocurrency Support: Include support for popular cryptocurrencies if desired.

Currency Converter: Include a feature to convert between different currencies.

Stock Comparison: Allow users to compare multiple stocks side by side.

One-Click Trading: Offer quick and easy order placement for active traders.

Backup and Sync: Enable users to back up their data and sync across devices.

Offline Mode: Provide basic functionality even when the user is offline.

Advanced Order Types: Offer various order types like limit orders, stop-loss orders, etc.

Market Sentiment Analysis: Provide insights into market sentiment based on social media and news.