Welcome to our easy-to-use platform that allows you to schedule doctor appointments with just a few clicks. Say goodbye to long waiting times and endless phone calls – with us, you can book appointments with your preferred doctors from the comfort of your home. Our platform is designed to be simple and intuitive, ensuring a seamless booking experience for everyone, made with ionic 7 & capacitor angular
Features
Ionic 7 Capacitor and Angular
30+ screens
Tested on both Android + iOS
Fully Responsive Mobile App
Full App Template
Clean & Optimized Code
 Doctor Appointment Booking
Welcome Sliders
Auth Screen
Login & Register Screen
Reset Password Screen
Categories Based
Search Doctors with Filter
Doctor Profile
Timeslots & Type Bookings
Multiple Payments Methods
Success Payment Modal
Appointment History List
Chat List & Messages
Audio & Video Call Screen
Reviews & Rating Screen
Accounts Screens
Notification Settings
Edit Profile Settings
Invite Friends
Many more…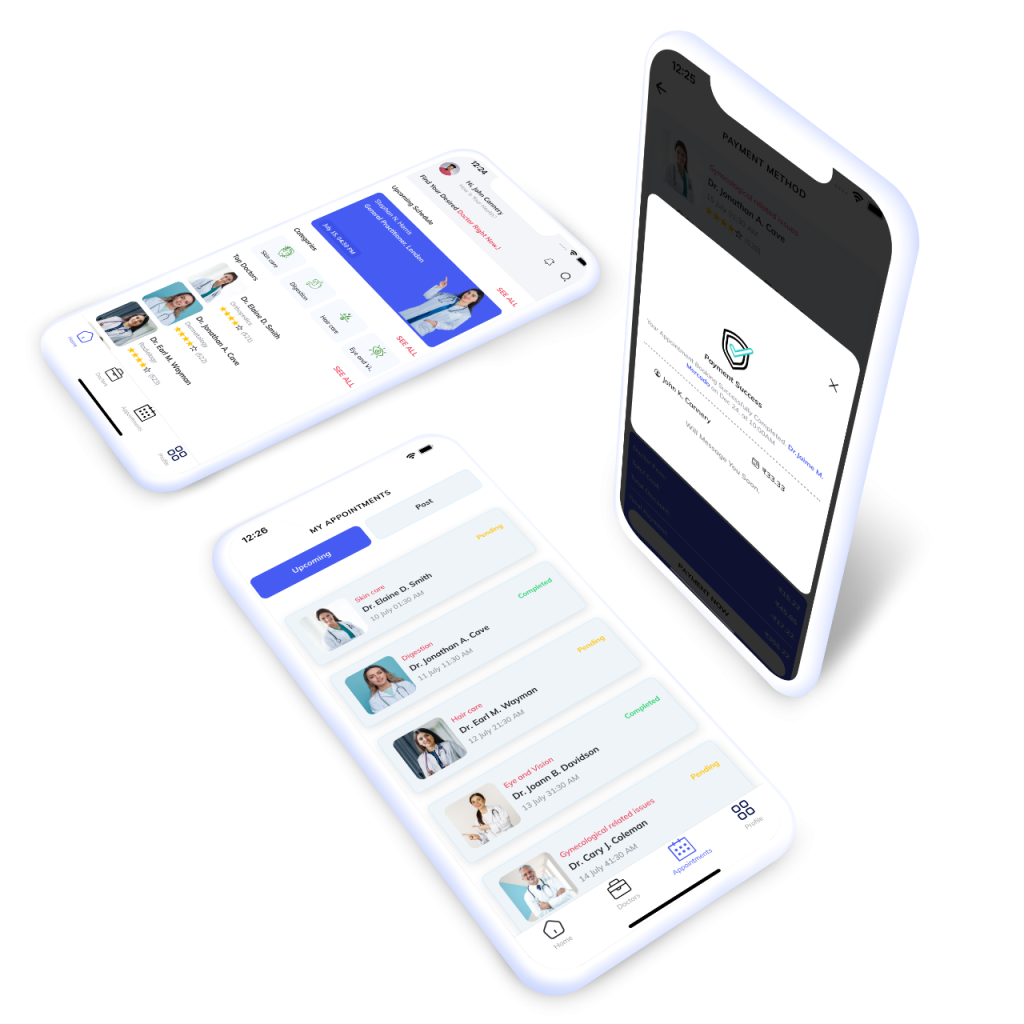 "Take charge of your health with hassle-free doctor appointment booking!
Welcome to our easy-to-use platform that allows you to schedule doctor appointments with just a few clicks. Say goodbye to long waiting times and endless phone calls – with us, you can book appointments with your preferred doctors from the comfort of your home.
Here's how it works:
Sign up: Create your account in minutes, providing basic details and your health preferences.

Find your doctor: Browse through a wide range of specialist doctors, read their profiles, and choose the one that suits your needs.

Choose a convenient time: Pick a date and time slot that fits your schedule. We offer flexible options to accommodate your busy life.

Confirm your appointment: Once you've made your selection, confirm the appointment, and you're all set!
Why choose us?
User-friendly interface: Our platform is designed to be simple and intuitive, ensuring a seamless booking experience for everyone.
Extensive doctor network: Gain access to a diverse selection of top-tier doctors, all in one place.
Quick and efficient: Save time by avoiding long queues and waiting times at the clinic.
Reminders and notifications: We'll send you timely reminders so that you never miss an appointment.
Your health is important, and we're here to make managing it as easy as possible. Take the first step towards better healthcare today by booking your appointment with us!"
Note: The above content is a short description focused on the benefits and ease of using the doctor appointment booking platform. Feel free to customize it further to match the unique features of the actual service you are promoting.