HealthHub brings the power of modern healthcare to your fingertips. Seamlessly connect with qualified doctors and healthcare providers, ensuring you receive the best medical care whenever you need it. Using our HealthHub Ionic 7 template can reduce development costs by avoiding the need to build everything from scratch.
Features
Ionic 7 Capacitor and Angular
30+ screens
Tested on both Android + iOS
Fully Responsive Mobile App
Full App Template
Clean & Optimized Code
User Registration and Profiles
Find Doctors and Healthcare Providers
Video Consultations
Appointment Booking
Prescription Management
Symptom Checker
Health Records and Reports
Health Tips and Information
Medication Reminders
Emergency Assistance
Health Trackers
Language Support
Feedback and Reviews
Notifications and Alerts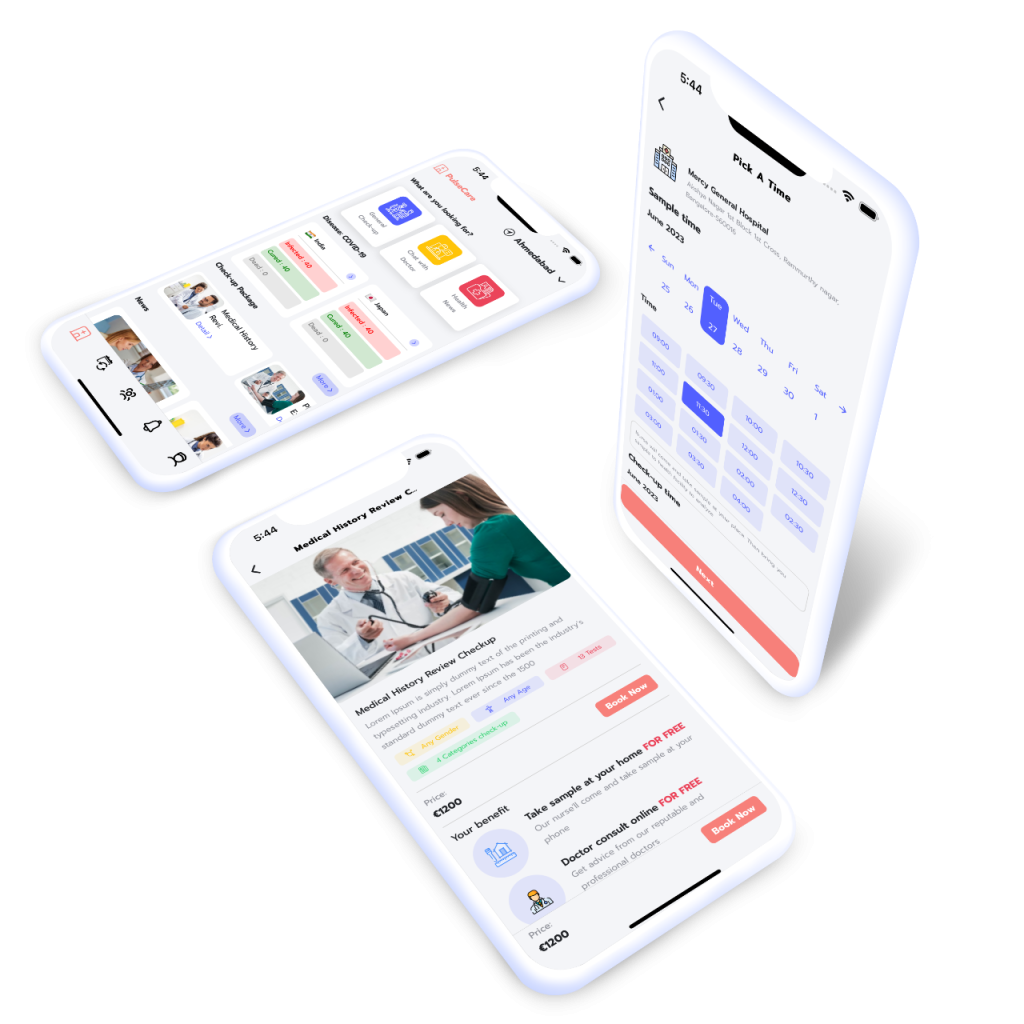 User Registration and Profiles: Allow users to create accounts and manage their personal information, medical history, and preferences.

Find Doctors and Healthcare Providers: Users can search for and connect with doctors, specialists, and healthcare facilities based on location, specialty, ratings, and reviews.

Video Consultations: Enable users to have virtual consultations with healthcare professionals through video calls.

Appointment Booking: Allow users to schedule appointments with doctors and other healthcare providers online.

Prescription Management: Provide a secure platform for users to manage and store their medical prescriptions and easily reorder medications.

Symptom Checker: Offer a symptom checker tool that helps users identify potential health issues and provides suggestions for further action.

Health Records and Reports: Allow users to access and store their health records, test results, and medical reports securely.

Health Tips and Information: Provide a database of health-related articles, tips, and educational content on various medical topics.

Medication Reminders: Set up reminders for users to take their medications on time and keep track of their dosage.

Emergency Assistance: Include emergency contact information and the ability to call for immediate help.

Health Trackers: Integrate features to track and monitor health metrics such as blood pressure, heart rate, blood sugar, weight, etc.

Fitness and Nutrition: Incorporate tools for tracking physical activity, setting fitness goals, and accessing nutritional information.

Online Pharmacy: Offer an online pharmacy with a wide range of medications and healthcare products for easy purchase.

Secure Messaging: Enable users to communicate securely with healthcare providers for follow-up questions and non-urgent concerns.

Insurance Integration: Allow users to manage their health insurance information and claims through the app.

Telemedicine for Mental Health: Provide mental health support through virtual therapy sessions and counseling.

Language Support: Offer multi-language support to cater to users from diverse linguistic backgrounds.

Feedback and Reviews: Allow users to leave feedback and reviews for doctors and healthcare services.

Health Challenges and Rewards: Gamify health improvement by offering challenges and rewards for achieving specific health goals.

Notifications and Alerts: Send timely notifications and alerts for appointments, health reminders, and updates.