Discover a seamless shopping experience with our custom flutter shopping app. Browse through an extensive product catalog, enjoy personalized recommendations, and find exclusive deals. Easily add items to your cart, track orders, and securely checkout with multiple payment options.
Features
Latest Flutter
Android + iOS
Full App Template
Optimised & Clean Code
50+ Layouts
User Registration
User Authentication
Product Catalog
Product Detail Pages
Shopping Cart & Checkout
User Profiles
Wishlist and Favorites
Discounts and Coupons
Product Recommendations
Multi-language and Localization
Ratings and Reviews
Social Media Integration
Order Management
Customer Support
Push Notifications
Returns and Refunds
Multiple Shipping Options
Search and Filters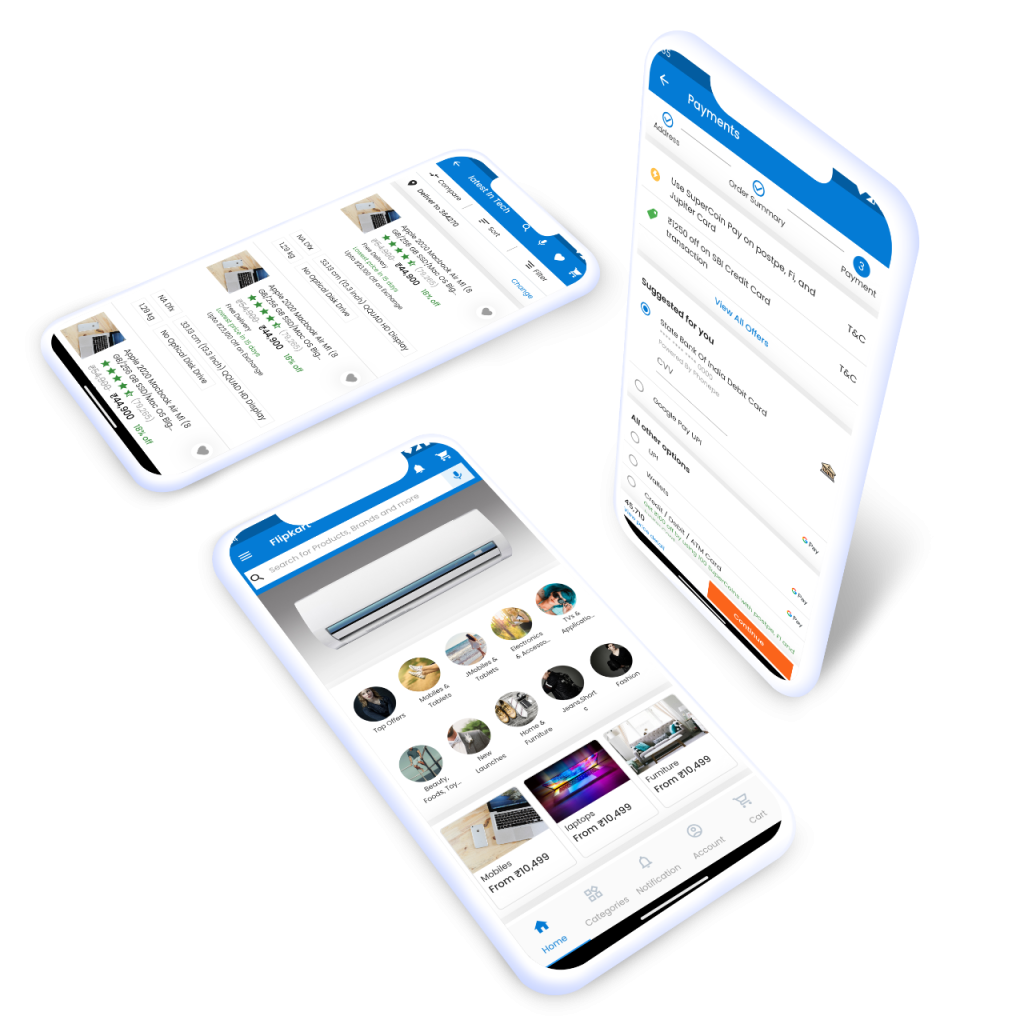 User Registration and Authentication:

User sign-up and login functionality with email or social media accounts.
Forgot password/reset password options for users.

Product Catalog:

Product listings with images, descriptions, and prices.
Categories and subcategories for easy navigation.
Product search and filters (by price, brand, color, etc.).
Product sorting options (by popularity, price, ratings, etc.).

Product Detail Pages:

Detailed product information.
Multiple images and image zoom functionality.
Product reviews and ratings.
Related products or recommended items.

Shopping Cart and Checkout:

Add to cart and remove from cart functionality.
Quantity selection and cart subtotal calculation.
Guest checkout and registered user checkout options.
Multiple payment methods (credit card, PayPal, etc.).
Order confirmation and email notifications.

User Profiles:

User account dashboard.
Order history and status tracking.
Saved addresses and payment methods.

Wishlist and Favorites:

Users can add products to their wishlist or favorites list.
Wishlist sharing and notifications for product availability or price changes.

Discounts and Coupons:

Ability to apply discount codes or coupons during checkout.
Automated calculation of discounts and promotions.

Product Recommendations:

Personalized product recommendations based on user behavior.
Cross-selling and upselling suggestions.

Search Engine Optimization (SEO):

SEO-friendly URLs and meta tags for products and categories.
Sitemaps for better search engine indexing.

Multi-language and Localization:

Support for multiple languages and currencies.
Location-based customization for shipping and taxes.

Ratings and Reviews:

Allow users to rate and review products.
Moderation and spam prevention.

Social Media Integration:

Share products on social media platforms.
Social login options.

Analytics and Reporting:

Track user behavior and sales data.
Generate reports on sales, popular products, etc.

Order Management:

Admin panel to manage orders, shipments, and returns.
Order status updates and tracking information.

Inventory Management:

Inventory tracking and real-time stock updates.
Low stock alerts and restocking reminders.

Mobile Responsiveness:

Ensure the app is optimized for mobile devices.

Security:

SSL encryption for secure transactions.
Regular security audits and measures against data breaches.

Customer Support:

In-app chat or messaging for customer support.
Help center or FAQs.

Push Notifications:

Notify users about order updates, promotions, etc.

Ratings for Sellers:

Allow users to rate and review sellers or vendors.