Elevate your Twitter experience with our custom Android app. Stay connected, engage with trending topics, and express yourself through tweets, retweets, and likes. Discover new conversations, follow your interests, and explore media-rich content seamlessly.
Features
Latest Flutter Version
Android + iOS
Full App Template
Optimised & Clean Code
30+ Layouts
Tweeting
Retweets and Quote
Likes (Favorites)
Replying
Threads
Mentions and Notifications
Direct Messages
Follow and Unfollow
Hashtags
Trending Topics
Explore
Search
Bookmarks
Profile Customization
Verified Accounts
Twitter Spaces
Super Follows
Accessibility Features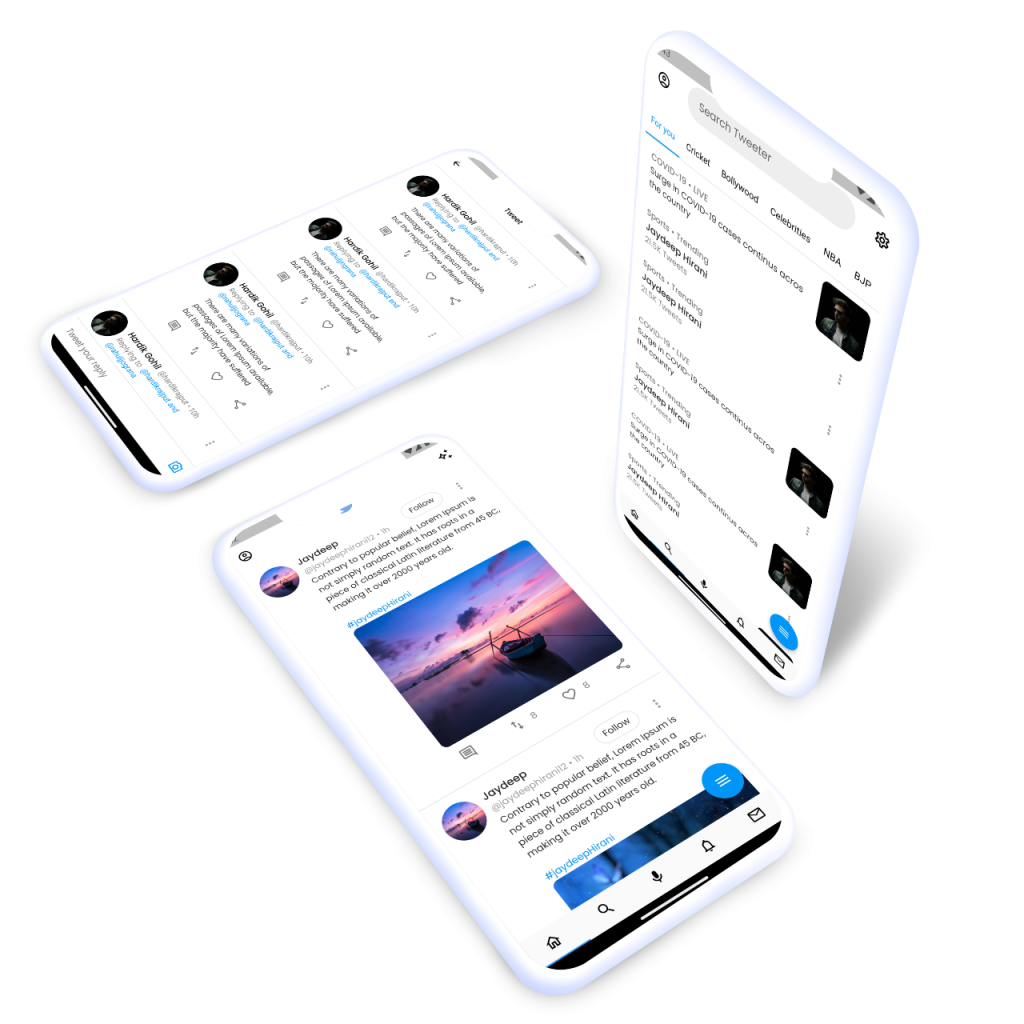 Tweeting: Compose and share tweets, which can include text, photos, GIFs, videos, and links.

Retweets and Quote Tweets: Share others' tweets with your followers by retweeting or adding your own comments with quote tweets.

Likes (Favorites): Show appreciation for tweets by liking them.

Replying: Engage in conversations by replying to tweets, creating threaded discussions.

Threads: Connect multiple tweets together as a thread for more extended conversations.

Mentions and Notifications: Receive notifications when others mention you, retweet your tweets, or interact with your content.

Direct Messages (DMs): Send and receive private messages with other users.

Follow and Unfollow: Follow accounts to see their tweets in your feed; unfollow to stop seeing their content.

Hashtags: Use hashtags to categorize tweets and make them discoverable by users interested in the topic.

Trending Topics: See what topics and hashtags are trending globally or within your region.

Explore: Discover popular and relevant tweets, topics, and accounts based on your interests.

Search: Search for tweets, users, and topics using keywords or hashtags.

Lists: Organize accounts you follow into custom lists for easier content curation.

Bookmarks: Save tweets to revisit later with the bookmarking feature.

Media Gallery: View images and videos directly within tweets.

Live Video: Watch and participate in live video streams shared by users.

Polls: Create and participate in polls to gather opinions from your followers.

Moments: Access curated collections of tweets and stories around specific events or topics.

Dark Mode: Switch to a dark-themed user interface for better readability in low-light conditions.

Profile Customization: Customize your profile picture, header image, and bio.

Verified Accounts: Identify accounts that are verified as authentic and notable figures.

Notifications Filters: Customize which types of notifications you receive.

Accessibility Features: Accessible design options for users with disabilities.

API Integrations: Third-party apps can use Twitter's APIs to integrate features like sharing, signing in, and accessing tweets.

Twitter Spaces: Join or host audio conversations in real-time, similar to live podcasts.

Fleets (Disappeared Stories): Share temporary, disappearing content that appears at the top of users' timelines.

Super Follows (Subscription): Allow users to subscribe to exclusive content for a fee.

Tip Jar: Allow users to send monetary tips to support your content.